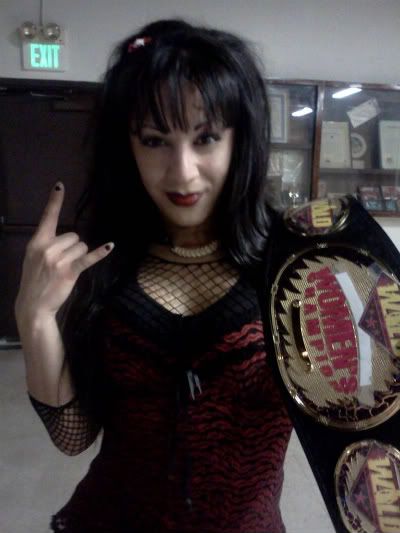 CHINO, CA. - "The Bloodthirsty Vixen" Amanda won her case with the WILD Championship Committee, was reinstated to active competition and, in her return match, defeated longtime nemesis Lucky O'Shea to win the coveted WILD World Championship.
Lucky O'Shea had issued an open challenge for anybody on the roster to come and try to take away her title. She was surprised when her opponent was Amanda. Lucky had outed Amanda's transgendered status after their amazing 2 out of 3 Falls match in January. Amanda had defeated O'Shea in that match, but the crafty redhead outed Amanda's status to WILD Owner Travis Leland, who was forced to reverse the decision and return the belt to Lucky. Amanda was then placed on suspension pending review by the 5-Person Committee. Wrestling fans around the globe gave their thoughts on the situation, some positive and some negative. Going into last night's show, the committee was deadlocked at 2-2 with one vote still undecided. That vote belonged to Head Official Jay Stone, who oversees the Rules and Regulations of the World Independent Ladies' Division.
Jay's decision officially allowed Leland to reinstate Amanda, and he placed her in the match at IWL's "Crossout" in Chino. Amanda ran through the curtain and attacked O'Shea before the bell. With revenge on her mind, Amanda made it clear that failure was not an option. After a surprisingly quick match, Amanda walked away, finally, as the WILD World Champion!
Lucky was not the only one displeased with the night's outcome, however... Buggy had originally been scheduled for a match against Allison Danger last night, but travel problems forced a change in plans. Buggy felt slighted by the powers that be in WILD, and decided to confront the new champion about it.
All in all, it was an historic night not only for WILD, not only for professional wrestling, but for organized sports of any kind. Amanda is the first transgender athlete to win a world championship in any sport. That is an accomplishment, no matter how you look at it.